Projects and management of public lighting are crucial issues in all Brazilian municipalities. Historically, public lighting is linked to the better occupation of spaces, and the more man occupies, effectively, the streets, neighborhoods and cities, the lower the crime rates, the greater the sense of security and the quality of life. Today, a good public lighting project must, in addition to fulfilling its basic role, contemplate security – it is necessary to avoid points of shadow and darkness – and sustainability – with the use of newer and less impactful technologies to the environment. All this was taken into account in the lighting project of Real Parque, a neighborhood planned in the New North of Santa Catarina Island.

Energy Saving
LED (Light Emitting Diode) light bulbs are not new in the lighting market, innovation has been happening in the way they are used in large public lighting projects, reducing electricity consumption by up to 90% (in relation to light fluorescence). In times of energy crisis, with water shortages and risk of blackout, this economy is fundamental for the future of the country's energy sector. In the municipality of São Paulo, for example, if all light poles received LED lamps, the economy would be sufficient to supply a city of approximately one hundred thousand inhabitants.
The energy efficiency of LED lamps is around 80%, meaning it converts light to about 80% of the energy received.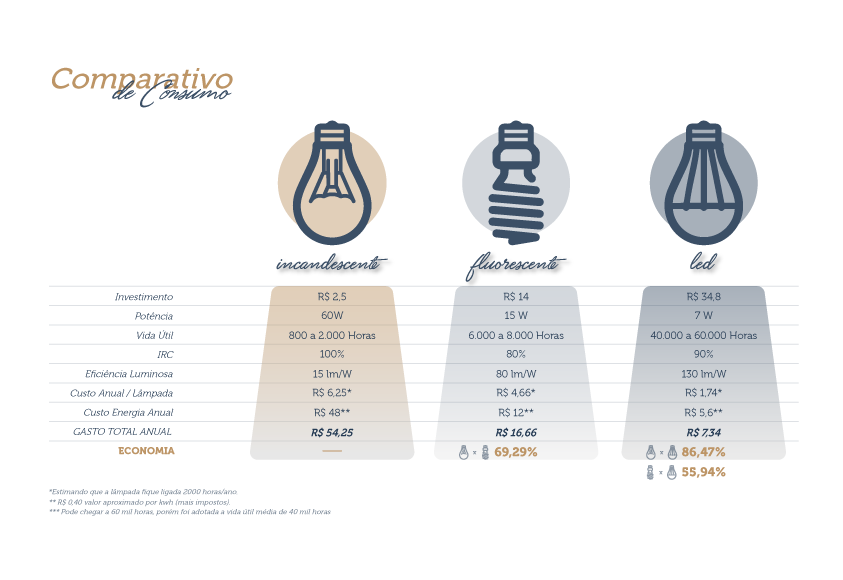 Environment
As if such savings were not enough, LED lamps are less polluting than fluorescents and require less resources for their production and disposal. In order to get a sense of the environmental risk that fluorescent lamps represent: a single lamp that has been incorrectly discarded, if broken, releases about 20 mg of mercury (and other metals highly harmful to human health), capable of contaminating more than 20 thousand liters of water from springs, rivers or groundwater, and is highly toxic to man if aspirated or comes in contact with the skin.
In a city with so many natural beauties and high quality of life, like Florianópolis, the concern with environmental preservation is a tonic in several spheres. In this way, nothing more obvious that this care comes to the public illumination.
Safety
Statistics of military police studies and secretariats and security of several Brazilian municipalities point to the relationship between increased crime in areas with no lighting or inefficient lighting. It is estimated that the 50% reduction in illumination leads to a 100% increase in crime.
Due to the high energy efficiency and its luminescence, LED lamps are the most suitable for a public lighting project that also aims at safety. In addition, they allow their placement so that they do not obscure the vision of drivers and pedestrians and do not create shadow points.
Aesthetics and valuation of land
A well-designed lighting project also includes aesthetic elements that value the neighborhood or the city. In Real Parque, the beauty care also passes through public lighting, so in the area of ​​public lighting, the whole neighborhood will have underground electric cabling, which values ​​land and real estate. Installed in ditches dug underground, the underground networks have greater durability, require less maintenance, and do not cause visual pollution. In the long term, they are economically more viable. That's because repair costs are up to 80% lower than in the overhead network, requiring fewer wire replacements and more serviced repairs. Another advantage of underground networks is that they are not subject to weather conditions, nor are they conductive to surges, a frequent cause of burning of equipment in homes, or of vandalism, with theft of cables.
The Real Parque Novo Norte is a neighborhood planned according to the demands of the new urbanism, for that reason it can add so many quality and benefits. Get to know other differentials of this venture personally.