Just as fashion varies according to changes in behavior, construction and architecture also vary as the desires and needs of families change, and this reflects behavior, consumption habits and lifestyle. In a quick exercise, we can remember how our grandparents' houses were, with large hallways, all well-marked and enclosed rooms, maid's dependency (since most of them slept at work), a room for each function (sitting, dining, visiting), garage for only one car etc. All these are examples of structures that have changed over the years, some are no longer in use, others have been expanded to be better used. Today, the projects are more dynamic and transform the house into a large space of conviviality, making the environments are harnessed to their full potential.
INCREASE THE DESIGN OF YOUR HOME WITH THESE TIPS
We separate five building trends that you can add in the project to have a more functional, practical, cozy home and aligned with the environment.
Integrated spaces
The open concept has fallen into popular taste a few years ago. At first, the integration was between kitchen and dining room or pantry. Today, it is common to create a large space that unites kitchen, dining room and living room – which is now both family living space and place to receive friends and even more formal visits.
The integration between kitchen and dining room can be done with tables or counters in the form of islands or peninsulas, which at the same time unites the environments and maintains the functions of each one. Other spaces can be delimited with rugs, small screens or other furniture, such as sideboards and sofas. The important thing is that the furniture does not disturb the circulation.
Gourmet kitchen
Gathering family and friends for a good meal is an excellent program, for this, more and more people are investing in furniture and appliances that transform the kitchen from home into a bistro kitchen.
Typically, the gourmet kitchen features an open concept and has custom-made furniture – especially cupboards with specific spaces for a cooktop, built-in ovens, and heated wine cellar.
In addition, some appliances are indispensable: side-by-side refrigerator and freezer, water purifier, food processor and barbecue.
Another important gourmet space tip is to invest in powerful and safe electrical installations, since, many times, several electrodes will be connected at the same time. The lighting should have more powerful bulbs over the food cut areas and other tastings and be cozier in the rest of the environment. Tiles and coatings need to be smooth and easy to clean.
Valorization of living and leisure areas
In addition to the open concept designed environments and the gourmet kitchen, which adds family and friends, other areas for socializing and leisure have been prioritized in the projects, giving a beach house air. Balconies and decks can accommodate comfortable armchairs and ottomans, more relaxed dining tables and even hot tubs.
A hobby box can be great for those who enjoy working amateur activities in their spare time, such as carpentry or gardening. Incidentally, having a home garden is an excellent hobby for the whole family.
Another option is to invest in a pool and a small park for the children.
Suite bathroom that values individuality
No matter how united a couple may be, it is very important to maintain each individual's individuality, and this is reflected in an architectural trend that has gained momentum year after year: the suite bathrooms which have two sinks, two showers and even two pots toilets. The sink space can house individual hygiene items such as shaving creams, perfumes and make-up. And having two showers allows you to enjoy the time better, without one having to wait for the other, keeping the preferences of each one, such as the water temperature, for example.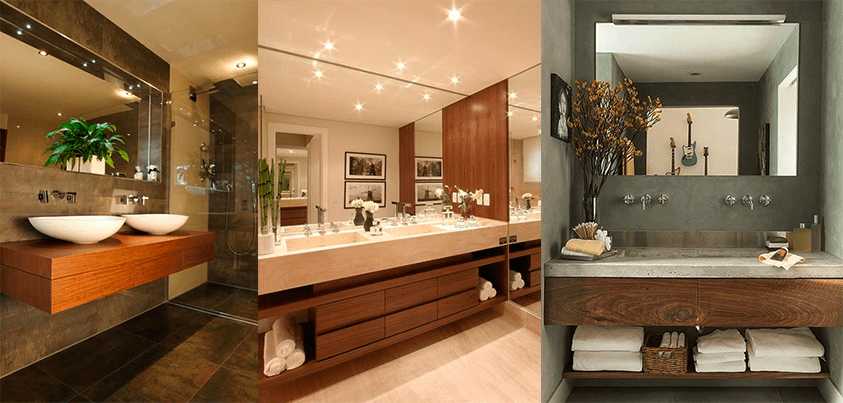 Sustainability
The intelligent use of natural resources is a fundamental factor for sustainable construction, and having environmental responsibility is also a trend. Civil construction is one of the sectors that uses the most resources and launches tailings in nature, so it is urgent to rethink some practices and invest in sustainable solutions. The best part is that in addition to saving nature, many of these solutions bring savings.
Include in your home project a rainwater capture, storage and reuse system that can be used to irrigate the garden and wash outside areas; a green roof that brings thermal comfort, improves air quality and humidity, and even works as an acoustic insulation; photovoltaic panels that generate clean and renewable energy at virtually no cost (the photovoltaic system lasts between 20 and 30 years, and the investment is paid on average in seven years, representing more than a decade of free energy generation).